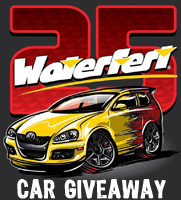 WIN A FREE MK5 GTI!
Click Here for Complete Door Prize Rules
2009 MK5 VW GTI 2.0 TSI (Manual)
How to Enter:
Each Waterfest ticket, whether bought online or at the gate, will include a door prize form that will be distributed to you when you arrive at the track. Each door prize form needs to be filled out and dropped off at any Waterfest t-shirt booth by the times posted on the form.
Click Here for Complete Door Prize Rules
(c) 2003-22 Waterfest® All rights reserved. Waterfest and the Waterfest logo are registered trademarks of Waterfest Productions, Inc. All rights reserved. Version 4.5