Waterfest 24 Burn Out Event - Sunday, July 22nd, 2018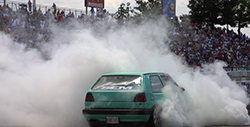 We've seen you do burnouts in the parking lots and draw quite a crowd.
Take it to the next level by showing what you can do to the cheers of thousands of people watching you on the drag strip.
WATERFEST ON-LINE EVENT REGISTRATION IS NOW CLOSED. However, you can register for all events except for the Sunday Show Car and Saturday Autocross School Events ON SITE at the Participant Gate!