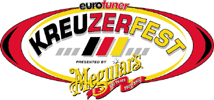 Click on the above link for more information regarding Eurotuner's Kreuzerfest Tour to Waterfest® 9.
Saturday, July 19th
Events/Attractions will include: (More to Come)
- Exhibition Car Area. This is where Clubs and/or friends park together in the show area
- AutoCross School
- Drag Racing - Raceway Park will run their normal Saturday Drag Racing Schedule and will have a separate class for VW and Audis.
- Sponsors and Vendors Area
- Chassis Dyno
- Swap Meet
Sunday, July 20th:
Events/Attractions will include:
- Show Cars
- Autocross,
- Drag Racing,
- Burn-Out Contest-Winner Receives a FREE set of BF Goodrich Tires
- Sound Off,
- Exhibition Area.
- Vendor Area
- Chassis Dyno
- Registration (except for chassis dyno) includes the entry of one vehicle and its driver.
- You may enter any two events.
- The first event will cost $35 and the second event will cost $15.
- We recommend that you pre-register for events, as that will speed-up your entrance into the event.
- The Show Car Event usually sells out before the event so we recommend registering as soon as possible.
- People participating in more than one event may reduce their chance of winning either or both events if the events are driving events, since you may get less practice time.